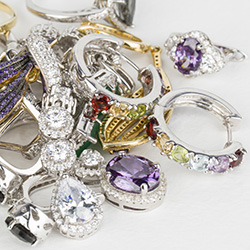 Questions about your jewelry and not sure where to turn?  Tip & Prong is your trusted source.  Connect face-to-face online with a jewelry expert who will answer questions about your fashion jewelry or fine pieces in a confidential, secure and judgement-free zone!
Schedule your Live Video Visit appointment
Receive an email appointment reminder
Attend your Live Video Visit and get answers
Easy and safe in the comfort of your home, office, car or wherever you connect.
Quality & Oversight
Tip & Prong ensures the quality of your experience by asking you to rate your video session.  Your feedback allows us the opportunity to increase our level of service whenever possible.  Tip & Prong continually strives for excellence in professionalism, service and client satisfaction. Its team of jewelry experts consistently collaborates to provide the utmost in industry knowledge, ethics and innovation.